If you've been dreaming of becoming a published romance author since you first discovered romance novels, you've come to the right place.
This set of videos and resources is designed to help aspiring writers understand what Harlequin Series is, and the wide variety of romance stories Harlequin publishes. Get advice straight from Harlequin's experienced editors on the key elements of each romance line, tips on catching their eye, and how to submit your story for consideration. We hope these resources help you reach your writing goals!
Once you've found the series you want to target, check out the step-by-step guide on how to submit your story to Harlequin and read the FAQs.
Romance readers from many backgrounds and communities share an enjoyment of stories about falling in love. Harlequin is committed to publishing diverse and inclusive voices so that readers see themselves reflected in the stories we publish. We'd love to read your love story!
---
Why Choose Harlequin as Your Publisher?
Did you know that Harlequin sells two books a minute worldwide? That publishing with Harlequin guarantees distribution of your book across multiple channels?
Learn about Harlequin's unique publishing model and find out the advantages of choosing Harlequin as your publishing partner.
---
What is a Romance Novel?
Not sure about the difference between a romance novel and a book with a romantic element? You're not alone.
---
Which Series are You?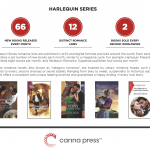 One of the first questions you might be asking yourself is: Which romance series is right for my voice?
Read this fun blog post to discover your Harlequin match or download our brochure describing Harlequin's romance lines.
---
Spotlights on Harlequin Series
You might be curious about what we publish at Harlequin or where your story fits. We publish 12 different romance series, with 4-8 books released per month within each series, as well as a range of genres in our digital-first imprint, Carina Press.
Watch these short spotlights to learn what readers expect, and what editors want to see, for each Harlequin romance line.
---
PASSION
Harlequin Desire
Sexy, dramatic and set in a world of wealth and opulence
New video for Harlequin Presents coming soon! Read the writing guidelines here to get a head start.
HOPE & INSPIRATION
Love Inspired
Contemporary romance meets faith-based values.
.
Love Inspired Suspense
Courageous characters facing challenges to their faith…and their lives.
.
Harlequin Heartwarming
Wholesome, complex and emotionally satisfying romances.
---
SUSPENSE
Harlequin Intrigue
Focused on crime-solving, the hero and heroine race against time to figure out a mystery together.
.
.
Harlequin Romantic Suspense
Romance against a backdrop of suspense, with ordinary characters in extraordinary circumstances.
---
LIFE & LOVE
Harlequin Romance
Relatable, "whisk me away" romances that are all about the heroine.
.
Harlequin Special Edition
Heartfelt, down-home romance with true-to-life characters.

New video for Harlequin Medical Romance coming soon!
---
HISTORICAL
Harlequin Historical Romance
A romantic escape to the past, from ancient civilizations right up to the 1950s.
---
CARINA PRESS
Harlequin's digital-first fiction imprint publishing a broad range of romance across subgenres.